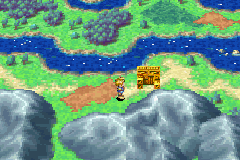 The Bilibin Barricade is located to the east of Bilibin. It is a simple barricade made of boxes. To the north, next to the exit to Kolima, are three trees stacked on top of each other.
Story
[
]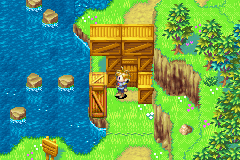 Afraid of the curse that his desire to build a grand estate had brought upon them, Lord McCoy quickly had a barricade to Kolima built. He made it so that the only entrance was through a locked wooden door that only he had the key to. Lord McCoy would give the key to brave warriors to try and rid the curse from Bilibin. After looking at Isaac and his friends, Lord McCoy refused to give Isaac the key. Some simple mind reading revealed that the barricade had been hastily built and that Isaac could probably find a passage through.
Getting Through the Barricade
[
]
Although the door is originally locked, getting through it is a simple matter of using the Move Psynergy. Go in front of the crate farthest to the left and cast Move on it and push it to the right to get through. Going back to Bilibin is easier, just go behind the crate and push forward. After the curse is lifted the front door becomes unlocked.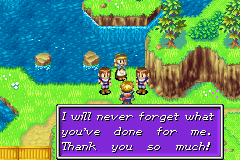 After Mercury Lighthouse
[
]
On the way back through the barricade after completing Mercury Lighthouse the three trees that were originally precariously stacked on top of each other have been knocked down by Saturos and Menardi. One of them has fallen into the river and is in danger of being swept downstream. If you use Move to rescue this tree on your way back through, after ending the curse, three children will give you a Hard Nut in gratitude. If you do not, the girl will die, and the two boys will vow to never stand on each other's shoulders again.
Items
[
]

Hard Nut: A group of children will give you a Hard Nut once the curse is lifted, but only if you saved the tree in the river after clearing Mercury Lighthouse.