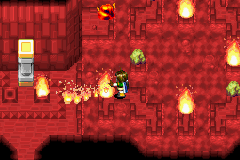 Blaze is a Mars class Utility Psynergy introduced in Golden Sun: The Lost Age. Its in-game description is "manipulate flames." It can be used by Jenna and Jenna only, and she gains it at the end of the Magma Rock dungeon when the party reaches the room with the magic tablet that would give the spell to a Mars Adept. Jenna can use Blaze on a steadily burning flame to project that flame forward far in a compass direction. This is integral to solving some puzzles, especially in the Mars Lighthouse, and is required to complete the game, but has nowhere near as many uses as Reveal. Blaze costs 1 Psynergy Point.
GBA Utility Psynergy

.
Golden Sun
.

The Lost Age
.

Restorative
.
.
Elemental
Power
.

Elememtal
Phys. Attack

Support
.

Utility
Community content is available under
CC-BY-SA
unless otherwise noted.