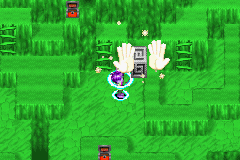 Carry is a Venus class Utility Psynergy that is used in both Golden Sun and Golden Sun: The Lost Age. It is described as: "Lift and move light objects." Carry is bestowed by the Carry Stone item when equipped. It can be considered a combination of the Lift and Move Psynergies in that it elevates an ornately carved cubic block, shifts it one space in a compass direction, and lets it fall down; however, this does not mean it can be used in the place of Move and Lift as it only moves the mentioned blocks. It is required to complete Golden Sun, namely the Venus Lighthouse and sections of Crossbone Isle, and is also used in The Lost Age to complete the Venus "sub-tower" of the Mars lighthouse and for finding optional secrets like the Haures summon sequence. It costs 2 Psynergy Points to use.
GBA Utility Psynergy

.
Golden Sun
.

The Lost Age
.

Restorative
.
Community content is available under
CC-BY-SA
unless otherwise noted.