Minotaur redirects here. For the monster, see Minotaurus.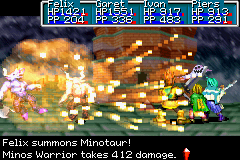 The Emu Psynergy set is a set of Jupiter and Venus Psynergies available to the Tamer Class series. The set is similar to other sets available to the Tamer class in that it is very different when compared alongside other upgrading techniques (e.g. Ragnarok and Odyssey) for many reasons. First and foremost, the later forms cost no more Psynergy than their predecessors; the entire series costs 10 PP to perform. Secondly, it is one of the few upgrading series with more than two forms, possessing four total variations. The entire series is available at Level 20, and all techniques hit a single target.
In basic function, it is somewhat similar to the Call Psynergy series, as both series of Psynergies call in enemies to do the fighting for the caster.
Community content is available under
CC-BY-SA
unless otherwise noted.