Fire Breath redirects here. For the monster skill, see Monster Skills.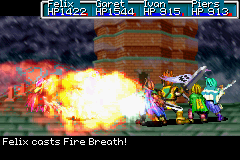 Fire Breath is a Mars attack Psynergy available in Golden Sun: The Lost Age, and only to the Pierrot class series. Because this Psynergy is obtained through use of the Mysterious Card, any character can use this Psynergy. Fire Breath costs 13 PP and is available at level 22. It has a base power of 85 and targets 3 enemies. What should be noted; however, is that the secondary targets receive far less damage that they would with Mars Psynergy of similar power.
.
Elemental
Power
.

Elememtal
Phys. Attack

Support
.

Utility
Community content is available under
CC-BY-SA
unless otherwise noted.