Helping out
To write a new article, just enter the article title in the box below.
Not sure where to start?
Adding content
Talk and more...
Check out the community portal to see what the community is working on, to give feedback or just to say hi.
Did you know...
...that when you cast the Halt Psynergy on any townsperson, they'll say only the first word of their sentence when you talk to them and then return to normal?
...that the above Halt mechanic works on Djinn in The Lost Age the same way it works on people in both games - as in, when you use Halt on a Djinni and then interact with it, its face portrait will appear while it says "..." before returning to normal?
...that while the Revive Psynergy is available to a Venus Adept through the default Squire class series only from Gallant onward, it is available to a Venus Adept in any stage of the Swordsman class series?
...that all Reviving effects in the games, such as the Djinn and Psynergy, share their respective hit rates with their respective HP restoration rates (so that Quartz has a 50% chance to revive to 50% health, Spark and Balm have 60% chances to revive to 60% health, Dew an 80% chance to revive to 80% health, and Tinder a 100% chance to revive to 100% health)?
...that Kraden cannot be Mind Read while waiting for you to take off on the Lemurian Ship while in Lemuria, but can be Halted, but when then spoken to he will oddly say "..." rather than the first word of his normal sentence?
...that due to inconsistent translation, Hsu was named his Japanese name Ulmuch in The Lost Age but not in Golden Sun?
...that 1:37 to 1:56 of the title screen theme to Metroid Prime 2: Echoes sounds almost exactly like 0:31 to 0:46 of the Venus Lighthouse theme from Golden Sun?
...that using Halt on Eddy in Shaman Village Cave will not stop him from running away from you, and instead it just flashes rainbow colours?
...that the Dracomace is actually a Staff, and not a Mace?
... that, in The Lost Age, the Trainer's Whip can be bought for 666 coins?
About Us
This wiki is about the Golden Sun game series and is a community aiming to make a freely editable and comprehensive resource on Nintendo's Golden Sun series of RPGs.
Note that this site contains SPOILERS. While templates are in place in various articles to indicate to readers that there is storyline material that players yet to complete the games may not yet know and may not yet want to know, if you have yet to finish the currently-released games, then you read at your own risk.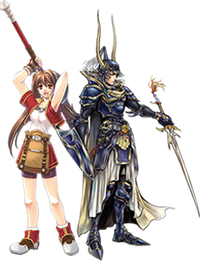 JRPG Games
Want your community included? See how!