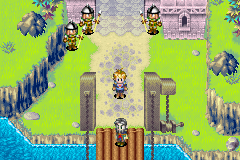 The Gondowan Passage (ゴンドワナつうこうじょ Beginning Gondowan Passage) is a gate and drawbridge located at a river separating the continent of Angara's southernmost region from the continent of Gondowan and its northernmost areas. It is the only location that allows passage between the two continents. The Gondowan Passage is owned by Tolbi in Angara, and is hence manned by Tolbi's soldiers. Beyond the passage are the village of Suhalla and the town of Lalivero, the only known settlements in the northern parts of Gondowan.
In Golden Sun after the player completes Colosso, Iodem (Lord Babi's second-in-command) waits here for Isaac's party to come so they can go to Suhalla and Lalivero together. If Isaac returns to the passage before arriving at the Tunnel Ruins, Iodem will leave the party and resume waiting on the bridge. However a slightly humorous dialogue can occur if the player returns here after Iodem has left the party at the Ruins, the guards will not have changed their scripts, and will continue to complain about being discomforted by having Iodem nearby, even though he had long since departed.
Community content is available under
CC-BY-SA
unless otherwise noted.