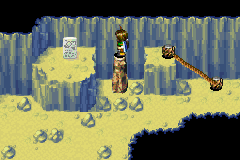 Indra Cavern is a tiny one-room cave north of Madra on the continent of Indra, accessed in Golden Sun: The Lost Age. It cannot be missed by the player because it is right along the path through the continent one takes when leaving the Dehkan Plateau and headed toward Madra. In this cave, a simple puzzle is present where a Summon Tablet is visible as the reward to get to. The player just has to use the Move Psynergy on the earth pillar and move it one space to the right, and use the Lash Psynergy on the coiled rope to the right. Now you can climb up and hop across to collect the tablet, and the party is thereby granted the ability to summon Zagan. This is easily the first summon tablet players can find in The Lost Age.
Community content is available under
CC-BY-SA
unless otherwise noted.