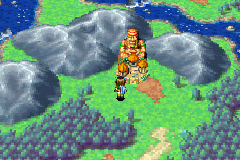 Kibombo is a large village in the Northern half of the Southern region of Gondowan, just south of the Suhalla Range. The architecture and culture of the village resembles pre-European Sub-Saharan Africa, of which the Zulus are an example. When you first arrive in Kibombo, you find that an initiation ceremony is underway. All of the buildings are closed and the villagers are choking the road to the ceremony, all hoping to glimpse their new witchdoctor.
Although apparently warlike and violent in nature, Kibombo's warriors are in fact primarily hunters and farmers. Their fearful reputation comes from the fact that their spears, which are laced with a deadly poison, and their protective body paint, which their witchdoctor makes using his magic, are much more potent than standard weapons or armor. The fact that the warriors are the primary food collectors for Kibombo also has the side-effect of forcing the residents to eat substandard food while they are away, much to the dismay of the local children.
Vendors
[
]
The village's Inn costs 12 coins per Adept.
Collectibles
[
]
Items
[
]
The following items can be found in the town houses following the episode inside the Gabomba Statue when day arrives:
Lucky Pepper: Found in jar on the left side of village

Lucky Medal: In a blue jar in the northwest two-room house in town.

Djinn
[
]
Story
[
]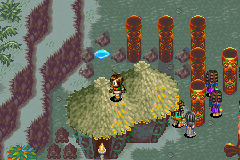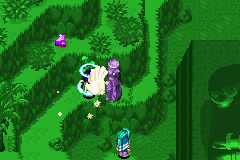 The Kibombo worship a deity called The Great Gabomba which is a spirit that resides in a huge clockwork and Psynergy powered statue to the north of the town. The Kibombo are ruled by a wise Witch Doctor who must undergo a test of offering to the Great Gabomba to validate his or her leadership. The people of Kibombo are slightly more warlike than their peaceful southern neighbors in the village of Naribwe, and they patrol the Kibombo Mountains to the south tenaciously. The latest Witch Doctor, Akafubu is childish and reckless, and thus has difficulty accessing his potential. It doesn't help that the Great Gabomba keeps refusing to acknowledge that his skills are sufficient, undermining his self-confidence. What no one realizes is that the fault is not that Akafubu's skills are insufficient (they're not), but that the system that would conduct the Witch Doctor's Psynergy to the Gabomba spirit has broken down from age.
Once the ritual is completed, the village's warriors return to their primary job of collecting food and Kibombo quiets down again. They relay this message of peace to the nearby settlement of Naribwe via smoke signals, much to their neighbor's relief.