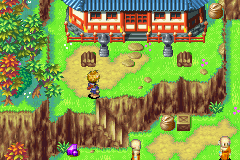 Lama Temple is an eastern-oriental inspired temple in eastern Angara on the north-eastern edge of the Lamakan Desert. Beyond the mountain pass to the east of Lama Temple lies Altin and Xian. Lama Temple is home to Master Hama, who teaches Reveal to Ivan.
Walkthrough
[
]
Isaac and his party arrive at the Lama Temple after traveling through the mine in Altin Peak in a detour around the rockfalls. In this temple, Hama waits for Isaac and Ivan's arrival, to teach Ivan the psynergy of Reveal. It is here that Isaac is reunited with Feizhi, the daughter of Master Feh in Xian who followed Isaac's path through the mines to ask Master Hama for aid in freeing her friend Hsu, who had previously been training with Hama.
Prior to the events of the game, Hama was a teacher at the Lama Temple, providing higher-level martial arts training for the usage of chi to proving students of Master Feh, who had trained with her himself. Both Feizhi and Hsu had trained with Master Hama, and during that time Hama tried to pass on the power of future cognition to Feizhi. However, until a Psynergy Stone struck the girl on the head, turning her into an adept, there was no change in her powers.
Feizhi's explanation to Hama reaffirms Hama in her ability to pass on skills the receiver has already honed, but not yet realized, and Hama proceeds to pass on Reveal to Ivan. During this process, Ivan feels a deep connection with Hama, as if he'd known her all his life, beyond just being from the same clan. However, he does not press the issue. Hama then leaves the Temple to aid Feizhi in saving Hsu.
Later, if Isaac utilizes Reveal and Lift to save Hsu from the boulders in the Mountains, Hama will offer her thanks to the heroes and urge them on their way to follow Saturos's trail through the Lamakan Desert using Reveal. Again, Ivan does not press the issue, believing Hama will explain all when their journey is complete.
Collectables
[
]

6 Coins: In the upper left pot in Hama's temple.


Water of Life: Found in a chest that can be discovered using Reveal.
Cultural Allusions
[
]
The Lama Temple is possibly a reference to the Yonghe Temple in Beijing, which is also known by the name "Lama Temple". It may also refer to being on the edge of the Lamakan Desert, which is a reference in itself to the Taklamakan Desert, a real world desert along the Silk Road.