We're Getting Mutants in the MCU - The Loop
Play Sound

A Mad Plant is a unique species of monster that is encountered individually at five different points in Golden Sun: The Lost Age. It is an additional counterpart to the Mimic series of enemies in both games in functionality; thus, all Mad Plants are encountered and battled in similar fashion to boss battles, and each member is unique and is guaranteed to drop an item.
Contrary to Mimics, all Mad Plants in overworld mode are well hidden; they are hidden underneath leaf clumps on the ground that can be blown away with the Cyclone Psynergy, and they will only appear and automatically attack if the party blows away the leaves that hide them. Not all players will end up finding every Mad Plant because of how much less obvious they are than the Mimics that lay out in the open, and because how chests are much more often investigated than leaf clumps.
All Mad Plants are visually identical in battle: they are giant animate Rafflesia-like flowers whose "mouths" appear more like real mouths due to their gaping teeth. Each Mad Plant has a unique setup of statistics and some differing moves between them, but they share the limitation of only being able to act once per turn. In terms of resistance, each Mad Plant has a Mercury Resistance rating of 100, a Jupiter Resistance rating of 72, a Venus Resistance rating of 48, and a Mars Resistance rating of 7, and in regards to their abilities they uses their available Venus-based attacks with a power rating of 105. Therefore, using your strongest Mars-based summon while the other three characters attack and defend normally is a completely sensible way of dealing with them.
In Golden Sun: The Lost Age

[

]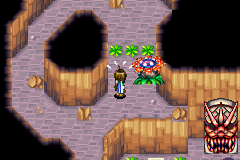 Five Mad Plants, each different statistically, can be found in the game along the nine Mimics. They are not necessarily stronger or weaker than Mimics in general. They are ordered below by when each one can be first battled, and therefore they are also ordered by battling ability: