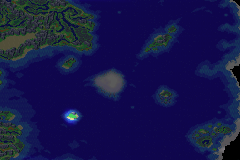 North Osenia Islet
(referred to in-game as "N Osenia Islet") is a small island located north of
Osenia
and southwest of the
Sea of Time
.
It is explored in Golden Sun: The Lost Age. If you have the Sand Psynergy found in Gaia Rock and the Red Handkerchief found in Southeast Angara Islet, you can get to a cow and give it the handkerchief so that it will give you the Milk, which you can then use in West Indra Islet. There's a Game Ticket buried in the far right corner of the garden patch (use your Scoop Psynergy to retrieve it). There is also a Lucky Medal hidden in a box inside the house.
Story
N Osenia Islet is home to three generations of sailors, all of whom wish to cross the nearby Sea of Time, all of whom have failed. While they drop hints about how to safely cross the currents, it is the master navigator, Yepp, of Yallam, who is much more helpful, as his song is actually a map of the waters.
Enemies
Collectibles

Lucky Medal: Found in left-most barrel inside of the house.


Game Ticket: Found in the far right side of the garden patch.


Milk: Need the Sand Psynergy. Received after giving the Red Cloth to the cow inside the corral.
Community content is available under
CC-BY-SA
unless otherwise noted.