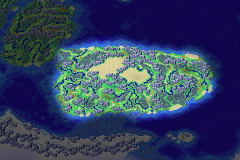 Osenia is a large continent in Weyard, similar in size to Angara and Gondowan, though it has fewer settlements than those two, so it is likely that Osenia's population is not as large. Aside from Tundaria, Osenia is the eastern-most continent proper on Weyard. There are other land masses further east, but they do not count as continents in their own right. Most of Osenia's coast is on the Eastern Sea, though a small section in the south-west is greeted by the Western Sea.
Geography
[
]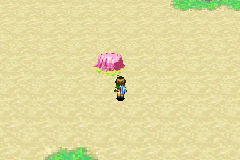 Geographically, Osenia is dominated by a huge mountain range called the Balloo Range which is impassable by land and forms a barrier between the continents western and eastern regions. Other major features include the Yampi Desert in the north-west, the Osenia Cliffs (in the west) which formed a land bridge between Osenia and the nearby continent of Indra when Indra collided with Osenia and Air's Rock, a colossal mountain which rises from a desert region in the continent's center.
Overworld Regions
[
]
Osenia's overworld can be divided into two large regions according to the Monsters battled there in Golden Sun: The Lost Age.
West Osenia
[
]
Western Osenia is the larger of the two and approximately two thirds of the Continent's land mass, it is west of the Balloo Range. This region contains the large city of Alhafra on the northern coast, the Yampi Desert south of it, the Osenia Cliffs in the far west, Mikasalla in the south-west, Garoh east of Mikasalla and north of Garoh Air's Rock. Also of note is Osenia Cavern.
East Osenia
[
]
Eastern Osenia is smaller than the western region and contains only two areas: the quiet but gameplay-important fishing town of Yallam in the far north. And the optional dungeon-style area of Taopo Swamp in the south-west.
Real World Inspiration
[
]
Osenia is loosely modeled on the South Pacific region and Oceania in the real world. In particular it bears a resemblance with Australia due to Air's Rock, which is similar to Australia's Ayers Rock; both are also situated near the center of their respective continents. This similarity is especially noteworthy in that if the player zooms out on the world map (using L) they will see that the desert surrounding Air's Rock is shaped in a likeness to Australia, having dents where the real-world Gulf of Carpenteria and Great Australian Bight would be.
The final reference is the presence of the Emu, a native Australian bird, in Yampi Desert and Air's Rock. Outside of these deserts however, the actual settlements, bestiary and remainder of the geography of Osenia has little to no resemblance of any real-world South Pacific country.