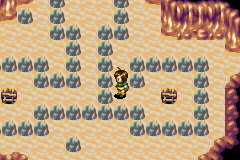 Osenia Cavern is a cave location in the center of Osenia that can be entered and explored in Golden Sun: The Lost Age.
It is like several small cave locations throughout the world in that it only contains one puzzle that leads to a Summon tablet. This cave contains the Megaera summon tablet, and it can only be reached by the Scoop Psynergy that comes is earned from the boss fight with the King Scorpion in the nearby Yampi Desert.
Collectibles
[
]

Megaera: Summon tablet and the cavern's sole collectible.