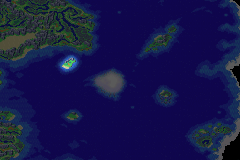 Southeast Angara Islet (referred to in-game as "SE Angara Islet") is a small island located below the southeast end of Angara and northwest of the Sea of Time.
The main thing of interest here in Golden Sun: The Lost Age is the Red Handkerchief item, which is held by a bird and will be received if you give it the Pretty Stone item found in E Tundaria Islet. The Red Handkerchief is then used in the N Osenia Islet. The only other point of interest is a Lucky Medal found in a wooden box aboard a docked boat.
Gameplay Roles
[
]
Trading Sequence
[
]
In order to obtain the Red Handkerchief, a small puzzle must first be solved. First, Move and push the upper wooden box off the edge of the cliff. Once it is on the bottom level, Move and push it underneath the other wooden box (ie: one space right of the little puddle) before casting Frost on the puddle of water. Then push the second block off the cliff. It will land on the lower box and create a full-sized platform of equal height to the ice pillar, allowing Felix to hop across and climb the vines up to the bird's nest (it will fly down when Felix approaches). Use Mind Read to communicate with the animal and when prompted, use the Pretty Stone to complete the trade.
Treasure Isle
[
]
The men on this island are a pair of treasure hunters and drop hints that reveal the existence of the optional dungeon, Treasure Isle, somewhere in the Great Eastern Sea.
Enemies
[
]
Collectibles
[
]

Lucky Medal: Found in one of the boxes on the southernmost raft.

Red Cloth: Given by the bird after trading the Pretty Stone.