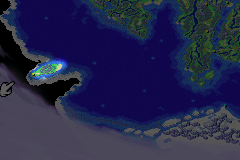 The SW (Southwest) Atteka Islet is, as the name would suggest, a small island southwest of Atteka.
Although it does not have to be visited, a Dragon Skin can be found here, as well as a Jupiter Djinni for players who have not transferred data from Golden Sun, or players who have transferred data, but without collecting all the Djinn in the first game. It is one of the 2 islands in which the player can enter Gaia Falls as an area, not just see it on the overworld map.
Enemies
[
]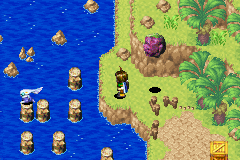 Collectibles
[
]

Jupiter Djinn: Found after lifting the boulder blocking access to the stone hopping pillars. Only appears if the player is missing one or more Jupiter Djinn from the original game.

Dragon Skin: Found in a chest after completing the island's single puzzle.
Trivia
[
]
This location has a glitch where if the player saves next to the treasure chest and resets the game, the box used to jump over the water appears misplaced blocking your path, essentially getting the player stuck in that area until one uses the "warp to last sanctum" feature (L+Start buttons whilst loading a game).