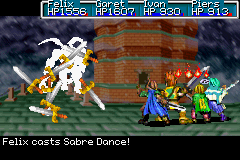 Sabre Dance is a stand-alone Psynergy available only to the Pierrot class series. Because this class series is obtained through use of the Mysterious Card, any character can use the Sabre Dance ability. Because it requires the Mysterious Card it is only available in Golden Sun: The Lost Age. Saber Dance is aligned with the Venus element, cost 7 PP to perform, and is learned at Level 10. It can only hit one foe at a time and is used to "Attack with dancing blades".
Sabre Dance does damage equal to what the user's Attack stat normally affords, multiplied by 1.5.
.
Main lists
.
.

Non-elemental Psynergy

Other lists
.

Related topics
Community content is available under
CC-BY-SA
unless otherwise noted.