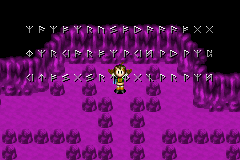 Tablets are stone slabs with inscriptions etched into their faces, hidden throughout Weyard in Golden Sun: The Lost Age.
These mythical stones have the power to teach their finder either dual elemental summons like Megaera or Moloch, or an elemental Utility Psynergy; the former type is far more numerous than the latter. Most Summon Tablets can be found either in short caves or at the end of small side-dungeons. Psynergy Tablets are found within each of the four Elemental Rocks scattered across the world. Often specific Psynergies are needed in order to reach the tablets.
Locations
[
]
Summon Tablets
[
]
In typical order of acquisition:
Psynergy Tablets
[
]
There are four tablets that bestow a Utility Psynergy to Felix and each of his party members:
Reveal Tablet: Found with Air's Rock. Grants Sheba the ability to perceive hidden truths within towns and dungeons.
Blaze Tablet: Acquired within Magma Rock. Allows Jenna to amplify small flames.