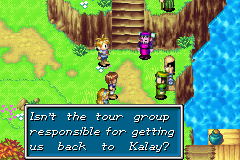 Tolbi Docks (トレビの船つきば Tolebi Wharf) is a port operated by Tolbi and located at the western end of the Karagol Sea. It is one end of the ferry service across the Karagol, the other being the Kalay Docks at the eastern most end of the sea. Isaac's party, having traveled from Kalay with a tour group to see Colosso, eventually arrive here after fighting off many monsters. However, due to the troubled passage, this boat turns out to be a one-way trip, as the sea is deemed too dangerous to traverse, and Silk Road is blocked by a landslide. This causes quite the commotion as disgruntled customers vent their frustration at the tour operators, with little success.
Collectibles
[
]
35 Coins: In the upper right-most box on the wooden port.

Potion: In a chest at the top left of the area, reachable by using Move on two vertical wooden crates.