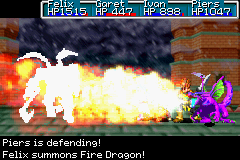 The Wyvern, Blue Dragon and Fire Dragon is a set of Mars and Mercury Psynergies available to the Tamer Class series. The set is rather unique when compared alongside other upgrading techniques (e.g. Ragnarok and Odyssey) for many reasons. First and foremost, the later forms cost no more Psynergy than their predecessors; the entire series costs 17 PP to perform. Secondly, while the first and third versions of the technique (Wyvern and Fire Dragon) are aligned with Mars, the second (Blue Dragon) is Mercury based. Finally, it is one of the few upgrading series with more than two forms, possessing three total variations. The entire series is available at Level 32, and all techniques hit three targets. Because they all require the Trainer's Whip, this Psynergy set is only available in Golden Sun: The Lost Age. This set is not available to the Tamer class.
In basic function, it is somewhat similar to the Call Psynergy series, as both groups of Psynergies summon monsters to do the fighting for the caster.
Psynergy Spells
[
]
Wyvern is the Trainer class' variant of the technique. It summons a Wyvern to attack the foes. It does Mars damage equal to 120.
Blue Dragon is the Beastkeeper class' variant of the technique. It summons a Blue Dragon foe to breathe ice on the enemy party. It strikes with Mercury damage equal to 130.
Fire Dragon is the Beast Lord class' variant of the technique. It summons a Fire Dragon enemy to breathe fire on the enemies. It attacks with Mars damage equal to 140.